This Site Isn't Affiliated With My Blog, but...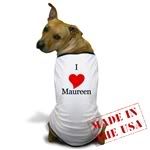 it
should be. It's Maureen gear. Those of you who are fans of me and this blog, should consider buying some of this cute stuff, and showing your support for...me. I am going to try to figure out some way to link this site, so that proceeds benefit my apostolate.
P.S. The owner of this Maureen gear website has also been accused of being Maureen Dowd. What's up with that? Just to make it clear: the owner of the gear website, Maureen Dowd and I are three separate peeps.