National Catholic Reporter Welcomes Child Advocate Columnist to Staff, Unveils New Column for Kids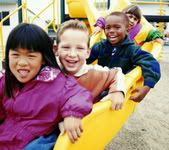 Kids will get their faith questions answered with Sister Tomberlin's column, Millstones.


The National Catholic Reporter (NCR) welcomed Sister Mary Alice Tomberlin on board Friday as the writer of a new column for children, Millstones.

The weekly column will include topics on the minds of Catholics, aged 5-12, including faith, friendship, the arts, women's ordination, liberation theology, birth control, and gender issues.

Tomberlin, who is a member of the Sinsinawa Dominicans in Sinsinawa, Wis., has spent over 25 years as an educator and has a Phd in clinical psychology from Norwestern University.

"Young people wonder about so many things in regard to their Catholic faith," said Tomberlin. "Why am I here? Who is God? Why did He create me? Am I really a female trapped in a young man's body?'

Tom Roberts, editor of NCR, said he is delighted about the new column. "The kids are going to love
this. We are so fortunate to have Sister Mary Alice. She can really get inside the mind of a child."

Tomberlin wouldn't give any hints as to what her first column topic would be, but said she is very excited about the column. "Kids are just thirsting for information and guidance. They're angry. Why is there poverty in the world? Why are we at war? Why was Tom Reese fired from America magazine? Why is the Catholic Church allowing millions of people to die all over the world because of its stand on birth control?"

"I am not going to influence the children will my answers to these questions, though," said Tomberlin. "I am just here to bring up the provocative questions. They can supply their own answers."

Millstones kicks off the week of June 27.