Wal-mart Superstores to Introduce Church Services this Fall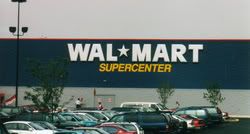 Starting this October, you will be able to get your tires, groceries, and hour of worship all in the same place once Wal-mart Superstores begin offering non-denominational church services on Sundays and Wednesdays.

"We are all about offering great products and services to consumers every day, and we think our new church services will give customers one more reason to shop and stay at Wal-mart," said John Fleming,vice president and chief marketing officer for Wal-mart Stores Division.

According to Fleming, the company's latest market research shows that 90 percent of Wal-mart shoppers identify themselves as Christians, and 60 percent of that group said they attend church at least once a month. As a result, Wal-mart Superstores across the country are adding chapels that seat 75 worshippers. Numerous hour-long church services will run from 8 a.m. to 6 p.m. on Sundays, and one evening service will be offered on Wednesday nights. Wal-mart greeters and cashiers, who have been certified through various online theological seminaries, will be in place this fall to serve as ministers, music directors, and counselors.

Fleming said the Wal-mart chapels will offer something no traditional church can boast of: the Rollback Offering TM. "Most churches ask for 10 percent of your income," he said. "Not Wal-mart, though. With our Rollback Offering TM, you only have to give 5 percent to God each week. Wal-mart wants to be the low priceleader in every area of your life, even those areas involving God."

In the future, the Wal-mart Chapels will be available for Weddings, baptisms, and christenings. "Just imagine, you can buy that baptismal gift at a Wal-mart, attend the baptism there, then walk just a few feet and buy the entire family extra value meals at McDonald's," said Ross Hanley, a greeter and minister in training at the Wal-mart Supercenter in Nogales, N.M. "This is what America is all about.

Annie Tamor, a longtime Wal-mart customer in Valdosta, Geo., said she thinks the chapel idea is just what her community needs. "Wal-mart recently took the land my church and subdivision were located on, so this latest idea - to offer church services - just shows how much Wal-mart really cares about all of us. They want us to have low, low prices, but they want us to be able to worship, too."

Fleming said he expects to see full pews come October."We really think our customers are going to want to praise God once they see the incredible savings we have in store for them," he said.
H/T Kelo Boy