World Exclusive: Habemus Papam!
Attention fans and followers of Pope Benedict XVI: it's time to put the party hats and horns away. As it turns out, a Pope was already selected in 1998, but thanks to the Clinton-Lewinski scandal and Hurricanes Georges and Mitch, this news was lost in the shuffle, and never presented to us by the MSM. You'll be happy to know, however, that Catholicnews.org has obtained exclusive photographs from the historic day. Habemus Papam!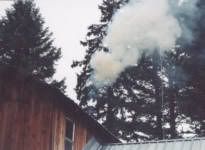 The conclave met in the woods of Springdale, Wash. The white smoke! We have a Pope...and it is ...
Rev. Father Lucian Pulvermacher, OFM CAP....Hooray! Let the partying begin!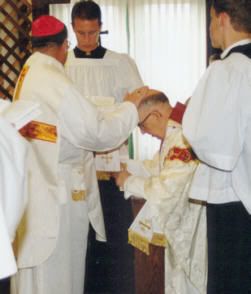 The imposition of hands took place in the conference room of a local Holiday Inn.
The new Pope cracks a joke. Someone doesn't find it funny. I feel another schism coming on.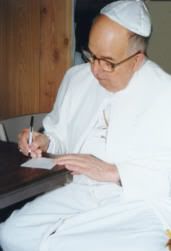 The new Pope performs his first duty. Detailed grocery lists are a must for this new pontiff.
The new Pope gets ready to excommunicate some chickens on his property.
You can contact the new Pope and wish him well. Here is the contact information and wording found on his website:
Papal Office of the tCC/ P.O. Box 133/ Springdale, WA 99173/USA/ Note that the acronym tCC stands for "true Catholic Church"and the lower/upper case notation is correct as shown.This is to distinguish the pope of the true Catholic Church from the imposter "pope" who presently occupies the Vatican.
(editor's note: Yeah, because often times people get confused and think the Vatican is in Washington.)
You can also write him at: sacerdos@verizon.net.

H/T: True Catholic

Update: My journalistic intuition was correct. I did some research today and learned there has been a break between the new Pope and the Cardinal pictured above (Cutline: New Pope cracks joke. Not everyone is laughing.....) Check out the details at:http://www.geocities.com/orthopapism/lpclaim.html However, I wonder what this guy has to say about it all.