New Apostolate Steps in Where Parents Leave Off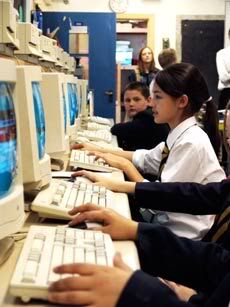 Children at Ufamilia update donor bases in their spare time.



PROVIDENCE, R.I. -- As more Catholic parents get involved in Church ministry and apostolates, some of their children are getting a special dose of family love, thanks to a new apostolate created recently in Rhode Island.



Ufamilia

, which means "Happy Family" in Latin, was created to fill the void in cases where families have broken down due to overinvolvment in Church ministries and apostolates.

"Unfortunately, sometimes when we make the decision to follow Christ, it is our own children who suffer,"said Patrick Dawson, founder of

Ufamilia

. "Husbands and wives sometimes get so involved in church work, that one or both of them find that God may be calling them to leave the family. So, we knew it would be much better to care for these children ourselves, rather than see them become wards of the state."

Over 20 employees and volunteers work at the

Ufamilia

headquarters. Five of those employees spend time with the children, teach them Bible lessons, and serve meals to them. The rest of the paid and volunteer staff do the important work of speaking tours, fundraising, public relations and education.

"The real backbone of our apostolate is public relations and fundraising," said Melanie Dawson, Patrick's wife, and co-founder of the ministry. "We need to get the word out about our organization, what we are doing, and how important it is for folks to donate. We can't raise these kids or pay our staff without money from donors."

Currently, there are 50 children who live at their center in Providence. Staff and volunteers keep the kids busy with games, television, and other activities. "They have us doing a lot of stuff here like stuffing envelopes and licking stamps," said Mary Therese Johnson, an 8-year-old who attends Our Lady of Good Counsel Church in Providence."I guess I would rather be back with mom and dad, but mom writes Christian books, and I know that is really important to God."

Patrick Dawson believes in his apostolate so much that he keeps his own two children, Peter and Paul, at the apostolate headquarters. "They are right in there with the other kids, playing, having a good time, and putting brochures and audio tapes in donor boxes."

Tony Bello, a lay volunteer for the apostolate, said he really feels good about the time he puts in here. "I volunteer several here hours a week, and my wife and kids are really proud of me because I am sacrificing time with them in order to spend it with other kids whose parents aren't around."

Melanie said this apostolate is thoroughly needed in the modern church. "St.Paul was single and supported himself as a tentmaker primarily," she said. "However, families today want to help spread the gospel and support themselves while doing it. That can be detrimental to a family, and we are sympathetic. We want to help."