People Across Country Clamor for Pope's OK on Contraception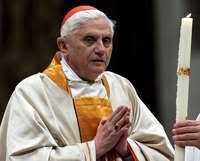 Pope Benedict XVI
NASHVILLE - According to a new poll, when it comes to issues such as marital fidelity, abortion, materialism and euthansia,the majority of Americans don't believe Pope Benedict XVI has any knowledge or authority, yet 90 percent said it would make "a huge difference" in their lives and in the world if the pontiff would bless the use of birth control.
"It just sickens me that there are men in Africa who are sleeping around on their wives, and they won't use condoms because it is against Church teaching," said Callie McIntyre, a receptionist with Marlen & Associates Advertising Agency in Nashville, Tenn. "All the Pope has to do is lift this silly restriction, and encourage the use of condoms, and the men would listen to him."
McIntyre, who is not Catholic, added that hearing the Pope say it is OK for her to use birth control wouldjust make her "feel better."
Karen Hartman, an interior designer for Huffman House in Atlanta, agreed that the Pope needed to "move in that direction." "There are women in my neighborhood who are lugging around two or three children. It's just sick. It's time the Church encouraged the pill," she said. "I've only got one child, and it has allowed me and my husband to do what we want to, to travel, to buy things."
Hartman admits that for awhile her son "whined" about wanting a little brother. "We got him an X-box, though, and he hasn't mentioned it since," she said.
Among those non-Catholics who believe the Pope needs to encourage the use of birth control is Michael Andrews, president of Food Basket, an organization that is based in New York City and helps the poor. "I think the whole problem began with Jesus," he said.
"There were crude forms of birth control back in his day, but he didn't encourage men and women to use it. Instead of distributing loaves and fishes, he should have been educating the poor and lame people about having fewer children. Plus, being who he was, he could have created something very effective for people at that time."
Andrews' organization is unique in that it doesn't feed or clothe the poor, but instead, encourages them to use birth control and provides it, free. Andrews is currently writing his own version of the gospels in which Jesus distributes condoms. "Yes, it's an anachronism, but it's one that has come," he said. "And the poor people we deal with in Third World countries would believe it and do it."
Carl Bamberg, a director of religious education at Sacred Heart Catholic Church in Lexington, Ky., said the Pope's blessing on birth control would be a huge relief to the majority of people in his parish. "They are all using contraceptives anyway,why not say it is OK? Then again, most people around here drive luxury cars and vacation at expensive resorts every summer. Maybe they aren't listening to all that stuff about rich men not entering Heaven. Are you listening, Pope Benedict? We need to update Church teaching."