Town Hopes Local Man Will Be Canonized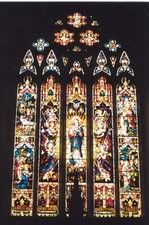 MARBLE, COLO. -- When Felix Sommers, 58, died of a massive heart attack at Morton's Coffee Shop Monday morning, his waitress, Enid Phillips, wrapped up his half-eaten cheeseburger and sold it on e-bay for $15.
"He was a great man," said Phillips, a lifelong Marble resident. "I think he is going to be a big saint in the Catholic Church one day. I thought I had to save the leftovers for posterity. The really weird part is that when I picked up his plate, I saw a face in it."
Miracles, healings and good works tend to highlight Sommers' life. In 1990, Sommers formed the Catholic family lay apostolate,
Fidelity
, in Albuquerque, New Mexico, to provide spiritual study materials to families. As the popular lay apostolate grew, Sommers made the decision to have the organization lobby against legislation and entities deemed harmful to the family.
As the apostolate expanded in scope, Sommers made the difficult decision to divorce his wife,Maggie, and relocate the ministry to Colorado, in order to devote more time to it.
"He said he hated to abandon those kids and leave Maggie," said Ron Sterling, acting director of
Fidelity
. "But after a few hours, he snapped out of it, and got down to the business the Lord had called him to."
Sommers' two children from his first marriage currently live in Albuquerque. His son Will, 25, the lead singer in a popular local band called Fester, said he is coping adequately enough with his father's death. "Yeah, people seem to like my father a lot," Will said. "When I was a kid, he would call and write letters from time to time. He would talk to me about Jesus and stuff, but I never got into all that religion crap."
His daughter, Wendy, who works as a dancer at Black Tie Gentleman's Club in Albuquerque, said she never felt she lived up to her father's religious reputation. "I always worried I disappointed him because I wasn't all into God like he was. I hope I wasn't too much of an embarrassment to him."
"He was really religious," said Bob Snelling, owner of Snelling Printing and Sommers' employer for two months during the 1990s. "He would work on religious pamphlets on the job and such. One time, I got on to him about it and he told me that he had received a vision from St. Teresa of Avila the night before, telling him to work on the pamphlet. Let's just say I was a little afraid to talk to him about things after that."
Fellow parishoners at Our Lady of the Mountains say they also noticed Sommers' holiness. "Oh, he was such a spiritual man," Regina Gutenberg said. "It just touched me how at mass, during the consecration, he would pray a Rosary on one hand, and a Divine Mercy Chaplet on the other. He was such a multitasking master. I could barely keep my eyes on what the priest was doing because it was such a joy to watch Felix."
After a few years in Marble, Sommers was able to obtain an anullment from his first wife, remarry, and adopt a couple of children from Tanzania. "He has such a heart for children and anybody who is in trouble and needs help," said Glenda, his second wife, who serves as office manager for
Fidelity
. "
In fact, townspeople called Sommers the Don Quixote saint because of his commitment to root out injustice. "When one young man cut in line during confession, Felix was so incensed, he knocked him to the ground and splashed holy water in his face," said Gutenberg. "We were amazed at his pluck."
Some of those involved with
Fidelity
have spearheaded a group, which will promote his cause for canonization. Recently, the office received a letter from Earl Morton from Las Vegas, Nevada, who claims a headache he had miraculously went away, after he received the burger he bought off of ebay.
Fidelity
is hoping they can document another miracle for the Vatican to "help speed up the process."