Homeschooler Pans Cheney's Chief-of-Staff Pick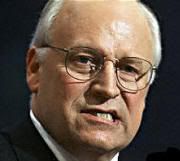 RALEIGH, NC -- Things went from bad to worse for Vice President Dick Cheney today when a North Carolina homeschooler scoffed at his decision to replace indicted chief-of-staff Lewis "Scooter" Libby with David Addington, the vice president's legal counsel.
"I can't believe he went for one of his cronies," said Jonathan Carter, a 10-year-old homeschooler, who posted a scathing indictment of the vice president on his blog,
Middle-earth Mania, Yeah!
"He should have tapped someone like Ralph Reed, who would have given him the ethical gravitas his office sorely needed."
Carter and his sisters, Sarah, 11; Leah, 7; and Rebecca, 6; currently study Latin, mathematics, and Bible.
Carter, who reads both the
Wall Street Journal
and the
Washington Post
every morning, said the Veep needs to make a fast turnaround if he expects any positive coverage from "Middle-earth." "I may not be able to drive or vote, and I may not even have much of an education yet, but he better stop taking me for granted,"Carter said.
Johnathan's blog is getting rave reviews from others in the Blogosphere. "My mom and I just finished reading "The Federalist Papers," said Caleb Winford, a frequent poster and member of Jonathan's homeschool group. "From what I have read so far, I can tell you that Jonathan is right and his opinions and writing style are on par with the writings of Publius," said Winford.
Kyle Allen, who at 9 is the youngest person ever to attend a Morton Blackwell "Leadership Institute"workshop, agreed. "He is a talented writer, and a very good fencer, as well. We are also on the same debate team, and he shows a lot of talent there, too."
Many are hoping that there might be a staff shakeup in the vice president's office as a result of Jonathan's post. "If there isn't a positive response from the White House to Jonathan's post, I am going to be really upset," said his mom, Vivian. "He worked really hard on that and I proofread it, so there were no errors. If his writing doesn't change some hearts and minds, it will just show bad government really has become."