Welcome, Crisis Readers!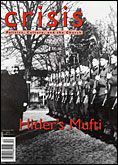 If you found your way to catholicnews.org via the January issue of
Crisis

Magazine
, welcome to the blog! It looks like my news articles (under the banner
"The Catholic Enquirer"
) are going to be featured in the magazine for the next few months.
So, take a look around the place. And, if you have any questions on Catholicism, ask away, because I have professional credentials (i.e., RCIA instructor and advent wreath maker.) You can trust me.

God bless, Maureen
Labels: Cool People Who Publish Me and Support My Apostolate