News Briefs
Dowd's Technorati Ranking Soars as Bloggers Discuss Her Irrelevance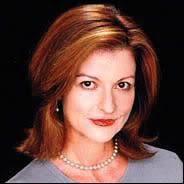 Dowd: A rise in irrelevance
NEW YORK -- Maureen Dowd's Technorati search ranking soared to No. 4 this week as bloggers feverishly posted reviews of her new book,
Are Men Necessary?
, searched for and read others' reviews, and discussed her irrelevance.
"She's just a well-trained, albeit, clever monkey," wrote Dennis Wright, the writer behind
Poliblogger
. "Does anyone read her books anymore?" Wright asked in his 18-paragraph review of Dowd's new book. Of Wright's 23 posters, 21 said they had read the book, but didn't think other people would.
"Nobody cares what she thinks," wrote Robert Oakley, responding to Wright on his blog,
Rightdude
. "I don't care what she thinks. She writes these crappy books and behaves as if we are going to talk about them or even care. I mean, do I seem like I care to you?"
New Study: Priest Abuse Scandal Caused By Sin
PHILADELPHIA -- Although various theories have been bandied about for years, a new study reveals the root cause of the Catholic priest abuse scandal is actually sin.
During the course of the 12-year study, various causes were examined, including priestly celibacy, poor catechesis, Vatican II, and inadequate formation on the part of seminaries, but in the end, the cause was much older than most of those participating in the study said they expected.
"I just remember thinking, 'sin? I was looking for something a little neater," said Msgr. Edwin Darby, a priest and clinical psychologist, who worked on the committee that oversaw the study. "We've done a lot of navel gazing, but the cause of all this apparently comes down to the sins of the perpetrators and the sins of the people who didn't punish the perpetrators."
Msgr. Peter Stubin, another priest serving on the committee, said knowing the results doesn't make solving the problem any easier. "God has already died once over this," he said. "There aren't any plans to be created or sacrifices left to make."

Catholic Convert Accidentally Rewrites de Sales'

Introduction to the Devout Life
ATLANTA -- John Stalworth has had a busy week. On Monday, he converted to Catholicism, and on Tuesday, he penned a book to help the average Catholic learn to live a devout life, no matter what his state in life.
"It's a practical guide on how to live a holy, Catholic life," said Stalworth. "I have a lot of references to saints, the Church Fathers and Aristotle, as well as plenty of analogies to things you find in nature."
Stalworth says he shrugs off comparisons to de Sales' masterpiece. "Mine has fewer pages, and isn't a translation."
Welcome, Curt Jester readers!