Multimillion Dollar Class Action Suit Leveled Against California Archdiocese
'Wedding Guests Who Attended Ceremonies Where Marriages Later Annulled Want Their Gifts Back'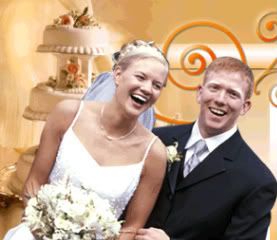 Wedding Bliss: Plaintiffs says they want married couples to work harder or send back their gifts.

VESTAVIA HILLS, CALIF.– In a first-of-its-kind class action law suit, a group of plaintiffs have filed suit against the Archdiocese of Vestavia in California for "blatant disregard for the sacrament of marriage" and enabling married couples to bilk consumers out thousands of dollars in gift certificates, household items, hotel lodging, food and gas.

"Frankly, our clients are tired of forking over money to Target and Bed, Bath and Beyond for cappuccino machines and Panini makers for wedding gifts, only to find out a few years – and in some cases only a few months later – that according to the Archdiocese of Vestavia, that it was all, well, pretend," said Bob Pappas, an attorney with Pappas, Pappas and Jones in Santa Monica, Calif. "All we are saying is that if you aren't really married, you don't need that $80 clothes hamper anymore, so send it back to my client."

Some of the claims go back several years. "I bought my brother, Frank, and his wife, Roberta, an All-Clad skillet 25-years ago when they got married," said Fred O'Malley, a draftsman and parishioner at Our Lady of Seven Sorrows Church in Santa Monica. "Now they are telling me that after 35 years of marriage and seven children, that their marriage isn't valid? Well, I'm betting my lifetime warranty with All-Clad is still valid, and my lawyers are taking that bet, too."

Plaintiffs include not only former wedding guests, but former members of wedding parties, too, including Angela Stratton, who attends Christ the King Church in Los Angeles. "My husband and I practiced NFP, were open to children, and talked about our golden years pretty frequently," she said. "Then, a few years into the marriage, he decides it is all harder than he thought it would be, abandons me, and the Archdiocese declares our marriage invalid."

"I couldn't even get him to go to Retrovaille," said Stratton. "which is funny, since he didn't have any problems going to the all expense paid honeymoon at Sandals in Jamaica four years before, which I paid for, by the way."

"If I can't have him back, I can at least be reimbursed so I can take one of my friends to Jamaica this summer," Stratton said. "If the Archdiocese won't give me justice, maybe my lawyer can."
Some critics have asked why the plaintiffs are suing the Archdiocese and not the individuals who were involved in the marriages that went defunct. "It's simple, the Archdiocese is aiding in the breakdown of marriages," said Pappas. "The current pope and the one prior both said there are too many annulments in the United States. In addition to stating that there needs to be more education for couples prior to marriage, Pope Benedict XVI also said more needs to be done to help married couples stay together once they are married, a statement which is ignored or glossed over by a lot of people. How many priests, brothers or nuns in this Archdiocese encouraged people to seek annulments, rather than encourage them to work things out? How many tribunals examined their consciences and looked at the evidence prayerfully?"

Crispin Henry, who has spend over $2,000 on food processors, coffee makers, mixers, Holiday Inn Express lodging and gas for Catholic weddings in which the marriages were later annulled, said he has gotten a lot of criticism for participating in the law suit. "A lot of my conservative friends act like I am trying to milk a sacred cow," Henry said. "But why is it that these same people can criticize priests and bishops over bad liturgy or their unorthodox prolife stands, but if I criticize these same people over what I believe is annulment abuse, I am a heretic? If members of the clergy care so little for the liturgy or what the Church says about prolife issues, could it also be possible that these same clergy may not hold the indissolubility of marriage in very high esteem? "

"An annulment isn't a sacrament, by the way," Henry added. "If a priest dresses as a clown and hears your confession, it's valid. If he says mass and lets balloons float up to the ceiling, the mass is valid, even though everyone would rightly complain about both of those things. However, if this same bozo sits on an annulment tribunal and hands out defective consent annulments all day long, no one questions his orthodoxy in the slightest."

O'Malley said winning this lawsuit is really important to him and the health of his own marriage. "I am invited to four Catholic weddings this month," he said. "How many more times am I going to be victimized, and how many more times is my wife going to drag me to Williams Sonoma to pick out the perfect coffee bean grinder? If this lawsuit is successful, I hope not that many more times."
Kelli Morrisey, one of the plaintiffs and a parishioner at St. Thomas More Church in Vestavia Hills, said, "I just want the court to acknowledge that I attended a really boring wedding ceremony in good faith, thinking I witnessed a valid ceremony take place, when I was actually just duped. And, I really, really want to be reimbursed for the Martha Stewart Living magazine subscription I bought for the happy couple 10 years ago."

Labels: Sacrament of Annullment